Carmelita Fox is a character from the Sly Cooper video game series.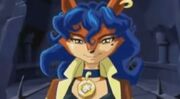 About her
Edit
A beautiful latina Red fox vixen, Carmelita is a police officer working for Interpol. She is the love interest of the main character, a raccoon named Sly Cooper. She has the typical Red fox fur color and sapphire blue hair. She speaks with a hispanic accent, though lacks it in some of the games due to having a different voice actress in her various appearances through the four games.
In fanon written by PrinceBalto, she marries and settles down with Sly Cooper, and has two sons with him, a pair of hybrid twin boys, Joseph and Benjamin.
Ad blocker interference detected!
Wikia is a free-to-use site that makes money from advertising. We have a modified experience for viewers using ad blockers

Wikia is not accessible if you've made further modifications. Remove the custom ad blocker rule(s) and the page will load as expected.